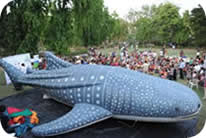 Every year on 5th June, WAY designs solution driven, innovative and effective activities for commemorating World Environment Day (WED) in Ahmedabad. From 2013 WAY kick started one of its kind, a daylong dedicated festival called Ahmedabad WED Fest to meaningfully celebrate WED.
Every year, this festival will act as an effective and a common platform for schools kids, teachers, youth, women, artists, community, Government Depts., Corporate, and NGOs to come together to actively participate in saving our environment.
This platform will also act as a catalyst to bring forward the best environment-friendly practices to encourage & empower the participants towards a sustainable living.
WED 2015
Theme for 2015 festival is Co-Existence where we are aiming to engage multiple stakeholders towards meaningful conservation of urban natural resources including our green friends. Trees in urban areas are not just facing the pressure of development but are also under various other lesser known threats which lead to their slow killing. Intended or unintended mal-practices that damage out trees need to be stopped with people's support... [ More...]
WED 2014
Ahmedabad World Environment Day Festival 2014 (AWF'14), was the longest environmental festival of Gujarat. This was the second edition of AWF, starting from 1st June with the Whale Shark Show at Kankaria Lake and culminating on 8th June at Indroda Park, Gandhinagar. A series of indoor events were carried out during the 5th June & 6th June celebrating the WED in partnership with GOs, NGOs, corporate and community. [ More..... ]
WED 2013
SOLAR FEAST FEST
A Seminar on the use of Solar cooker was organised to encourage use of solar energy. A free solar cooker kit was given to participants to give them confidence to buy & experiment with constilier solar equipments.
PEN PALS
A pen pal exhibition was held at the Karnavati Club where products made of used pens were on display.This is the first-of-its-kind exhibition on different utilities of pens
to recycle it.
Click here for More Pictures...
WED 2011
WAY honoured World Environment Day-2011 by carrying out a few meaningful activities on 05 June at Law Garden.The knowledge & awareness levels about environment of 100 odd Amdawadi people were put to test by WAY's Young Environmental Rangers (VI std. municipal school students) & they were beautifully supported & motivated by WAY's team of Young Environmental Leaders. At the end, everyone was happy for having done something meaningful.
Click here for More Pictures...