WAY - EC - Everything Connects...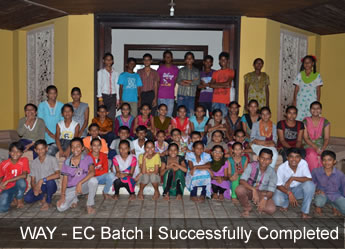 WAY- Everything Connects is an Environment Communication programme for school students & teachers. It is a behavioural change programme spread over a period of 3 years (5th, 6th & 7th std). It is designed with an aim to inculcate environmental manners and to instigate eco-friendly practices among children at an early age. The programme has shown marvelous results during implementation in English & Gujarati medium schools of Ahmedabad so far.
This programme is one of its kinds as it not only creates awareness among students but also equips them with required knowledge & communication skills to create a positive change in the world around them.

This programme is based on a philosophy that everything whether manmade or natural, living or non-living in the world around us is connected directly or indirectly with each other. Students learn to establish relationships among the elements of their environment through this programme. Once the relationship becomes clear to them, they move closer towards a sustainable lifestyle.
Teachers' Feedback
• The three things I like about the program were :
• The impact this program created -
• Why is environment education important for these children ?
Click here for more images of school programme...