Green Ahmedabad Campaign
Introduction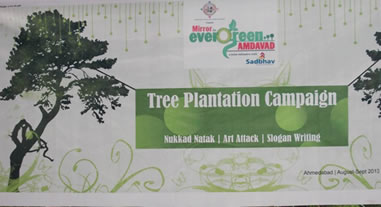 Sadbhav Engineering carried out massive plantation drive at Ahmedabad ring road and aimed to sensitize maximum people about importance of trees & environment and also to activate Sadbhav's branding through a Communi-Action campaign designed by World Around You (WAY).
Communi-Action campaign at six public gardens of Ahmedabad targeting morning walkers. Diverse age groups were covered through two public involving activities, a nukkad natak and a slogan writing completion. Men, women and children aged 9 tp 70 years were positively impacted through these activities.
Click Here for more pictures....
The public gardens where this campaign took place were :
Law Garden | Prahladnaagr Garden | Parimal Farden | Vastrapur Lake | Lion Sharad Garden | SPIPA



Campaign at the schools


Communi-Action campaign at six schools of Ahmedabad targeting students from 5th Standard onwards. 100 students were covered through Art Attack activity with theme Make my Tree. Street Play and Slogan writing competition was open for whole school to view and participate. Children were made aware through these activities about importance of trees and how it is necessary to take care of saplings till they grow into a tree. Saplings of Tulsi and various trees were distributed to children and school. The School Udgam School for Children, Thaltej

Following school took part in this successful campaign :
Zydus School for Excellence I, Vejalpur | Zydus School for Excellence II, Godhavi | Delhi Public School, Bopal | Anandniketan School, Shilaj |
LML School, Ognaj


Short Listed Activities



PLAY "Bacha Teri Nagari Re"| 15-20 minutes
Deliverables: The cost of play includes - cost of script, direction, professional artists, properties, banner, costumes and makeup.

ART Attack (any one activity) | 30-45 minutes
Deliverables: all stationery, hand-made papers, pencils, colours, glue, sketch pens, 10 gifts (for best art works) per school and banner.

SLOGAN writing competition | 15 minutes
Deliverables: slogan writing materials, 3 personalized mugs & t-shirts (winners) per school, designing, packaging, banner.

Sappling Distribution



Objectives



• Introducing Sadbhav's Plantation Campaign to maximum people (SADBHAV's BRANDING)

• Generating mass awareness about Campaign
(ENVIRONMENTAL AWARENESS)

• Creatively engaging students and society dwellers in the Campaign
(SOCIAL ACTIVITY & FUN)